SDOT shares historic transportation equity framework and implementation plan
SDOT shares historic transportation equity framework and implementation plan
Tue, 05/03/2022
Information from Seattle Department of Transportation
The Seattle Department of Transportation (SDOT) is excited to share its historic new Transportation Equity Framework (TEF). This plan will help reimagine the city's streets and transportation system by addressing persistent economic, racial, and social inequities in Seattle. The TEF is a critical tool in our work toward equity – one of SDOT's six core values. 
The TEF seeks to change our transportation system by: 
Increasing access to opportunities for residents in persistently neglected neighborhoods;
Expanding public transportation access;
Creating safer streets and crosswalks; and
Enhancing transit services citywide.
Transportation is not just about moving people or goods. Transportation connects people with friends, family, and services. People rely on transportation to enjoy activities, go to work, and meet their needs like grocery shopping. When there are areas of the city where the transportation system does not meet the needs of the communities that have to access the neighborhoods, it creates problems and barriers for them.  Finally, the TEF is meant to make our department work better by overcoming internal inequities. The TEF views our transportation system in a unified way. This means that one part will affect another. By viewing the system as a larger system with smaller parts, we can see exactly how each part works with and does not work with other areas.
The TEF has two parts. Part I defines the values and strategies that we will use to guide the plan. There are 10 equity values that contribute to an equitable transportation system (see below).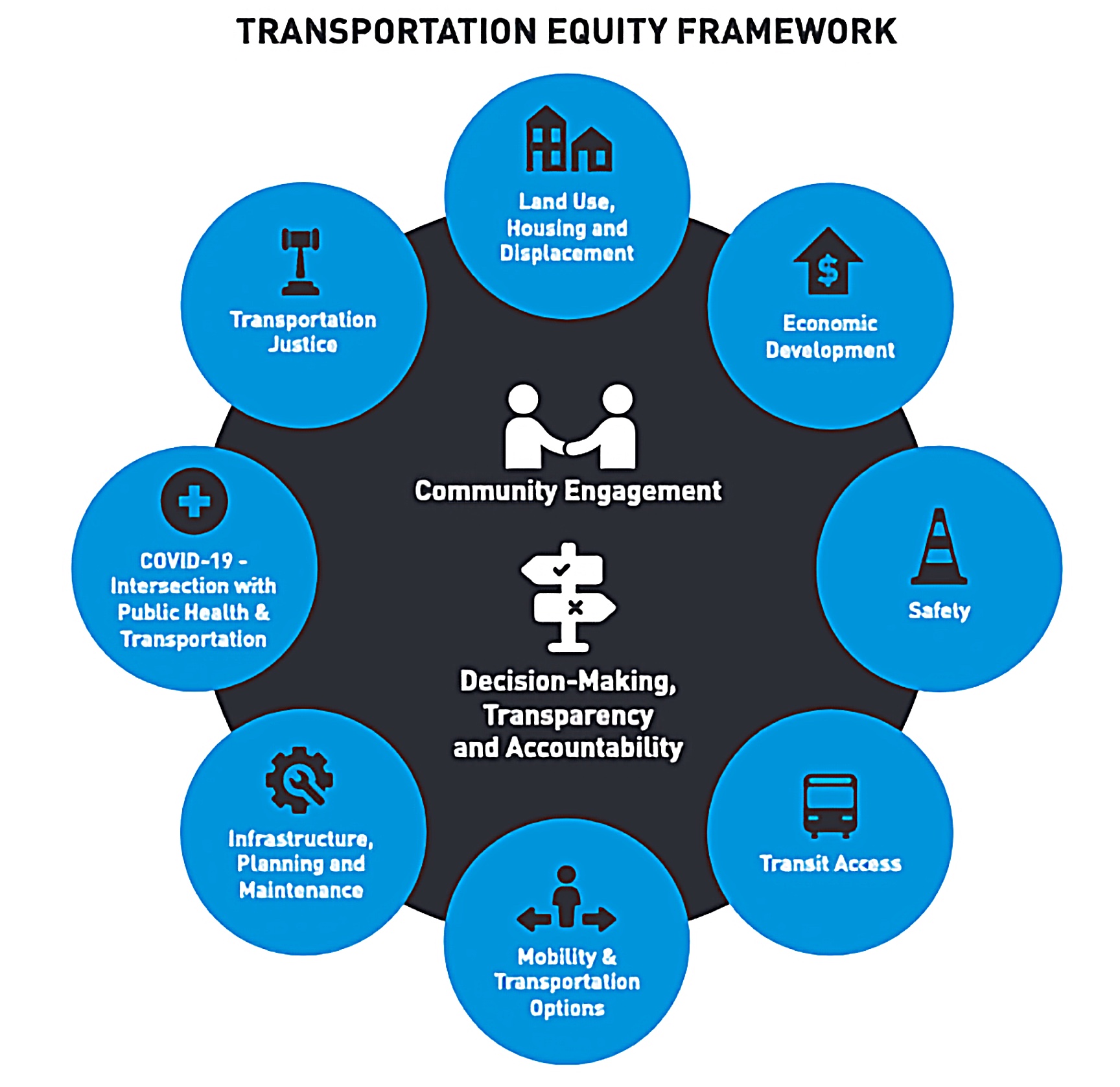 Part II builds on Part I's values and strategies. SDOT believes that Seattle's transportation system should work for as many different people as possible. That is why SDOT worked with the Transportation Equity Workgroup (TEW) and staff from other City departments to create a series of interconnected, smaller goals. By dividing the work into manageable tasks, it will be easier to achieve our larger goal of making an equitable transportation plan. 
SDOT will start using the TEF this year. This work will continue through 2028. During this period, we will apply the tactics created by the TEW to work with our communities, create policy, and manage our programs. We will also work on updating our internal processes and best practices to change our department's work culture. The TEF is a dynamic plan that will change as needed in response to evolving priorities, feedback received through the Seattle Transportation Plan, and staffing and funding resources. We've shared our tactics online through our Transportation Equity Framework dashboard. 
Beginning in 2019, we teamed up with a group of 11 community members representing Black, Indigenous, and People of Color, and other vulnerable communities. Recognizing their expertise and time, we gave them a stipend for working with us to create the TEF together. Transportation Equity Workgroup members have connections to local organizations in the Seattle-King County region. They shared their experiences and community knowledge to identify concrete ways we could resolve transportation-related challenges.
Seattle Mayor Bruce Harrell said, "SDOT's Transportation Equity Framework gives all communities a seat at the table in shaping the future of our City – ensuring communities of color and underrepresented voices are heard. One Seattle is all about this kind of commitment to equity, community, and opportunity. When we truly listen and work with one another, we can build walkable and transit-oriented neighborhoods that benefit communities now and in the future."
You can visit our website to learn more about the Transportation Equity Workgroup members. On our website, we have also shared the values and strategies guiding our work as well as the strategies we'll focus on over the next few years.