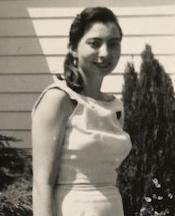 Dorothy ("Dot") Virginia Alkire,90 died in her home on March 29,2020. She moved to Seattle in 1970, buying a big house above Alki.  Dorothy loved living there.  She called it "our beach" – we were the "Alkire's of Alki."
Dot is survived by her five children: Joe Jr., Shari, David, Tom and Michael, all residing in Washington state; and her beloved sister Zelda Vice of Payson, Utah.
She is also survived by her five grandchildren: Cordell and Portia Fischer, Michael and Justin Alkire and Luke Alkire and 2 great-grandchildren Dominic Ojo-Fischer and Mason Wyland-Fischer.